Driveway and Patio Cleaning in Oxfordshire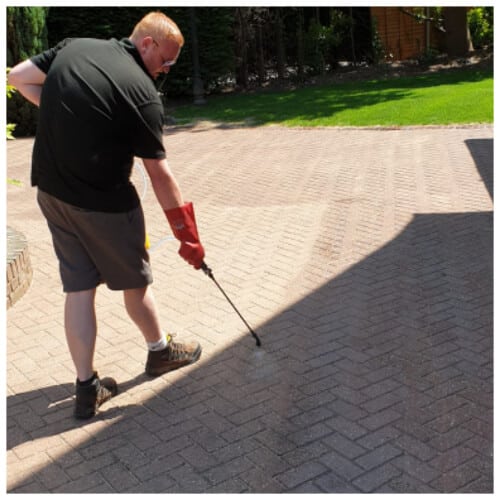 Contact Us For A Free External Cleaning Quote and Impartial Advice
Driveway and Patio Cleaning in Oxfordshire

The exterior of your home is the first thing that your neighbours see when they visit. While you may not always mind how your house looks on the inside, you do need to consider the way your home looks on the outside. A well-presented home that is tidy, clean, and pretty to look at will always gain the attention of passers-by. If you are planning to sell your home, curb appeal matters a great deal to your potential buyers. One part of this appeal has to come from the way your driveway looks, and with AWC Cleaning, you can ensure that it looks its best.
What Is Driveway/Patio Cleaning?
Driveways are made of different materials, and if you have had yours laid, you'll know already that they will come in different designs, too. We offer a driveway and patio cleaning service in Oxfordshire that is tailored to your driveway and your needs. Our cleaning products are the latest and greatest, and we use a mixture of both low and high-pressure jet cleaning – depending on the type of patio and driveway cleaning in Oxfordshire, of course. We ensure that we treat your driveway as we should so that we won't damage it. Our cleaning materials are biodegradable to ensure that we use the safest chemicals for your drive or patio, and we won't leave anything behind except for a great impression on our company.
A newly cleaned driveway makes a much better impression than anything else, and it adds value to your home to have a drive that can be cleaned regularly – it shows you take care of it. If you can show your driveway to be impressive and neat, people will have the same impression of the inside of your house. Let's not risk potential buyers and renters turning away from your home; our experts can provide the right cleaning help.
As professionals who are skilled in driveway cleaning and patio cleaning in Oxfordshire, we offer a cleaning team that is skillful and efficient. We can pressure wash driveways and patios of all shapes and sizes, removing any substance that should not be there. Whether this is chewing gum or algae, we've got the cleaning products to help. The team is trained in the proper use of washing techniques and the application of safe cleaning products. We have full insurance, too, so you can rest assured that you are covered.
What Is Driveway & Patio Sealing?
In this British climate, patios and driveways have to deal with grime, algae growth and sand loss, so driveways and patio sealers are necessary. The right patio sealer in Oxfordshire can prevent you from having to maintain and upkeep your drive regularly. Sealers act as a way to stop weeds from growing through the paving blocks, and sealers work by hardening the sand in the joints of the pavers. It ensures that your paving lasts for longer than ever, and it will also act as a UV filter to prevent the colour loss of the stone.
Contact Us For A Free External Cleaning Quote and Impartial Advice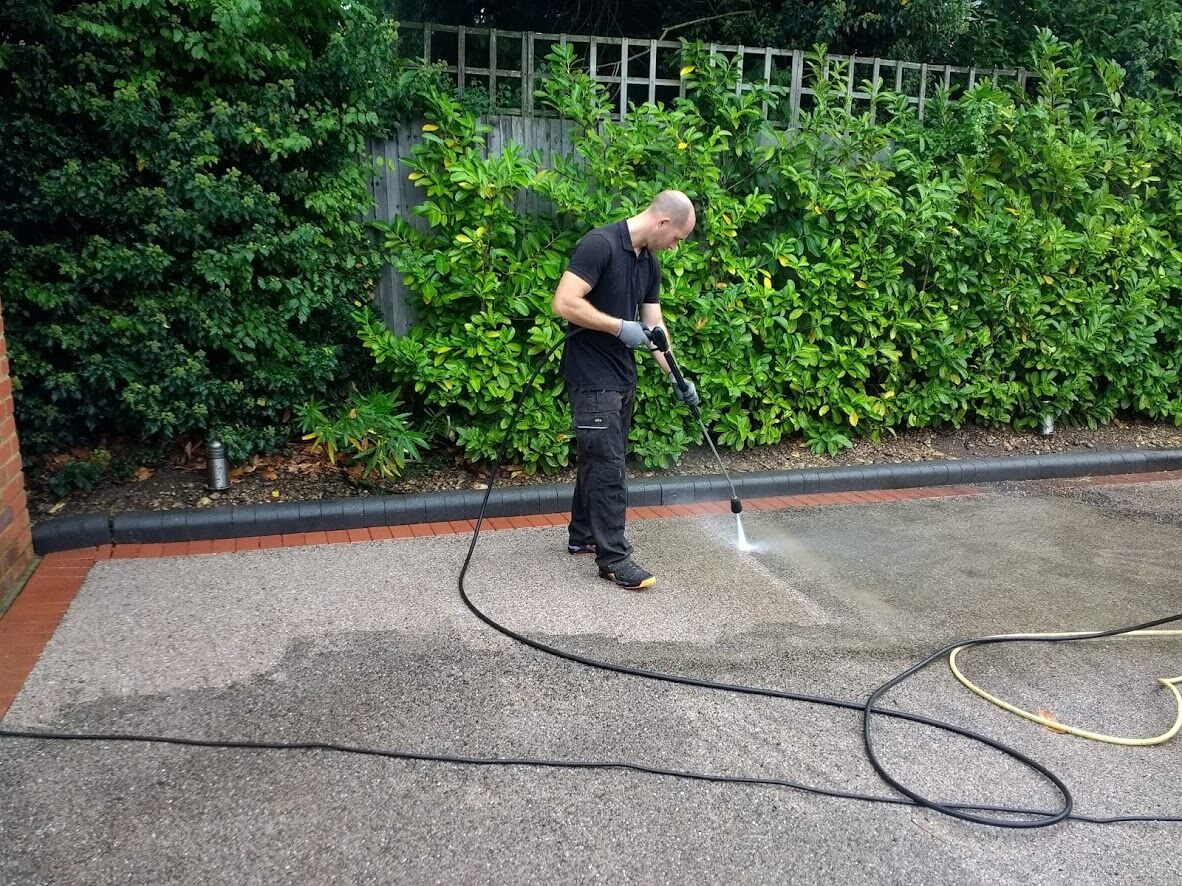 What AWC Cleaning Offer You
As part of our service, we offer the following:
Re-Sanding the Block Paving in Oxfordshire
The sand between the joints of the block paving is there to prevent the water from seeping through it. It also ensures that the paving stones lock together, stopping them from moving. Without the sand, they can sink because of the water penetration
Pressure Washing in Oxfordshire
You've most likely used pressure washing before, for the outside of your home or garage doors. Our services offer the same power blast as power washing, but the difference is that there is no heated water. A typical water temperature succeeds at washing away the grime, but it's not as good against the organic matter.
A gentler and more effective approach, soft washing for patio and driveway cleaning uses the blends of softwash products that are more eco-friendly and tailored to the needs of the required cleaning surface. Softwashing also deals with the root of the problem, preventing the organic matter from growing back.  We also use the softwashing method when roof cleaning and render cleaning.

Our Prices
We are the best around when it comes to the prices of our services, and some of those examples include:
£2 per square metre for clean and sand

£3 per square to seal
If you would like a quote on further cleaning services, please do call our friendly team who will be more than happy to help.
Call Us Now To Discuss Your Quote 0800 107 5726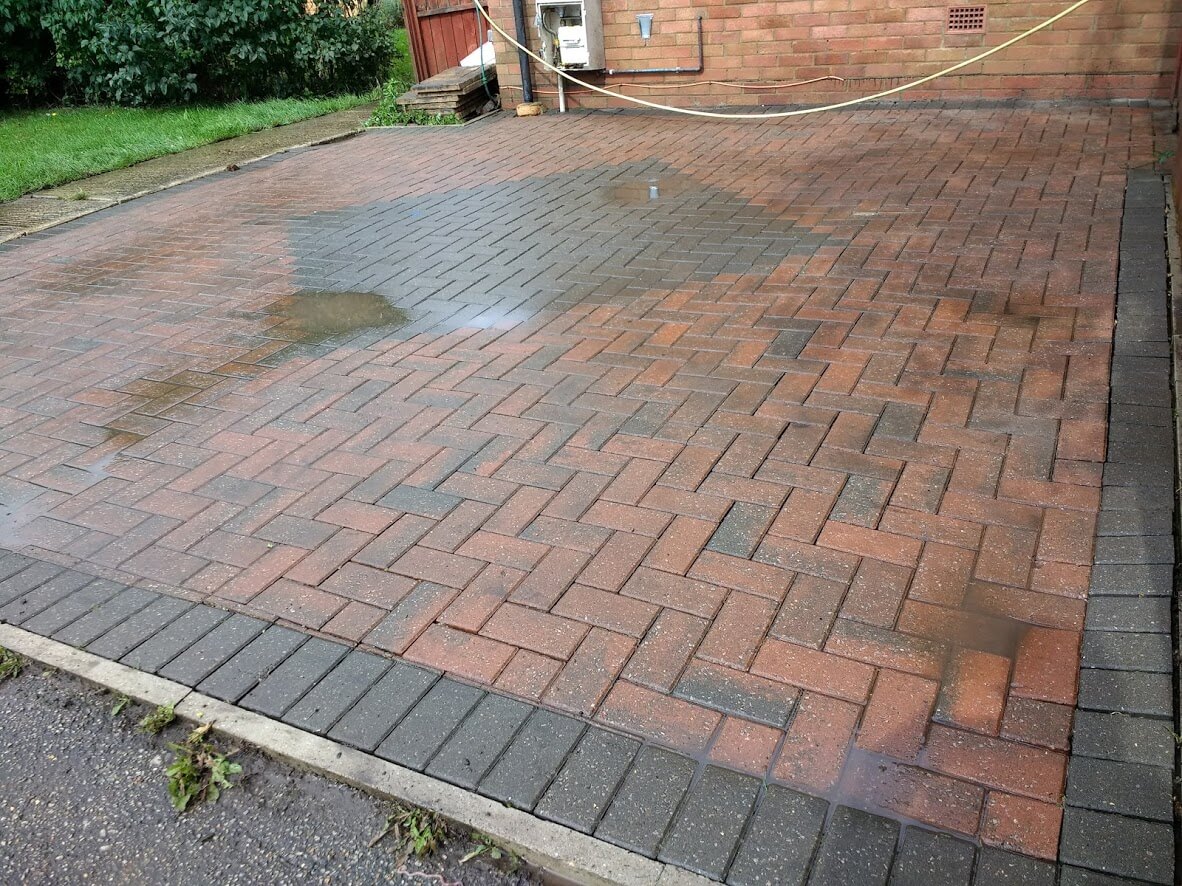 How We Can Help
Our service is honest, reliable, and professional. We pride ourselves on our stellar reputation, and we do all we can to nurture our customer base. Our work mainly comes from recommendations, and this only fuels more customers who are happy with our services. We aim to ensure that we offer happiness to all of our customers, as well as a driveway cleaning in Oxfordshire to be proud of. We do it all with the safest equipment and the speediest service. Contact us today for more information.
Please contact us for a free, no obligation quote. If you have any questions or would like to discuss your cleaning requirements one of our team of cleaners will be happy to get back to you as soon as possible.