Roof Cleaning in Farnborough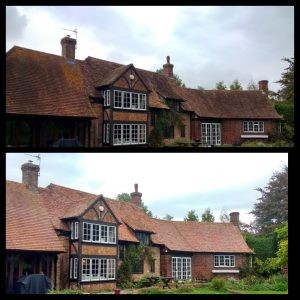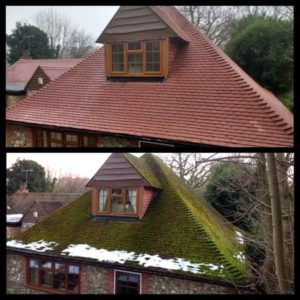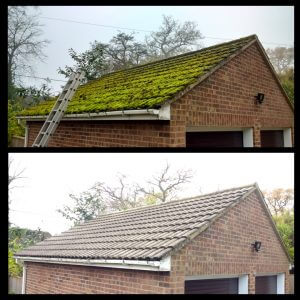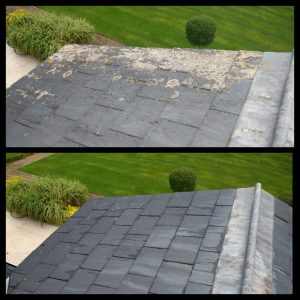 Contact Us For A Free External Cleaning Quote and Impartial Advice
Roof Cleaning in Farnborough

Roof Cleaning in Farnborough is something we specialise in. The environment of Maidenhead and the surrounding environs favours the growth of moss, fungus, algae, and lichens, which may all survive on rooftops. Roofs can also gather dirt from traffic, local construction projects, and other airborne contaminants, especially when they are adjacent to busy roadways.
We have cleaned 1000s of roof over the last 8 years.  Our experience and expertise ensrures that the roof cleaning is done safely and effectively.  All our staff are trained to work at height and we are fully insured to work on your property. 
Roof cleaning may dramatically improve the appearance of your home. The roof of your property may be restored to a near-new condition, and tiles may be returned to their original colour, giving your structure a new lease on life when properly cleaned and maintained.
Protect and Maintain your roof
Roof cleaning in Farnborough is an excellent preventative measure that can improve the longevity of tiles and avoid costly repairs to roofs, gutters, and render caused by excessive moisture and extra strain and weight put on roof materials due to moss and other debris, in addition to improving the aesthetics of your building.
We recognise that each roof clean in Farnborough will have unique requirements, and we are equipped to handle them all with a range of approaches. We have an article on how we clean moss from a roof.
Contact Us For A Free External Cleaning Quote and Impartial Advice
First class company. Roof cleaned in May.  Tricky job and heavy duty moss of 40 years. Looks amazing. Guys were lovely.
Efficient and helpful.
Farnborough Roof Cleaning Methods
Softwashing roof cleaning is a safe and gentle cleaning procedure that involves the hand removal of moss, algae, and bacteria using carefully mixed chemicals and a biocidal treatment that inhibits the re-growth of moss, lichen, and other pollutants, and can preserve your roof for up to ten years (depending on environmental factors etc)
On rare occasions, we will additionally provide pressure cleaning followed by a biocide treatment. While pressure washing may be an incredibly successful roof cleaning procedure, there are many places where it may be harmful, and as a result, it should only be performed by specialists who know when and where it is acceptable.
If you want your roof painting, we must first pressure wash it; else, the roof paint warranty will be void.
We can correctly analyse and advise on the finest and most appropriate techniques for cleaning your roof in Farnborough because of our expertise and expertise.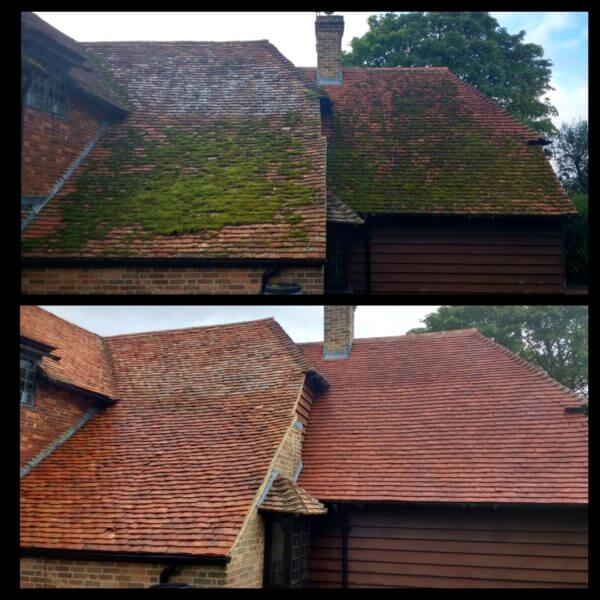 How we clean your roof:
Having contacted us to discuss your roof cleaning needs or for a free quote we will usually be able to give you a very rough guide price. We will then:
We will provide you with a detailed, personalised roof cleaning proposal including a final quote for your property in Farnborough
Our team of cleaners will undertake the roof cleaning in Farnborough using the methods detailed in your proposal
Following the clean, all debris and rubbish will be removed, and our team will check that you are happy with the roof clean that has been undertaken.
Following the clean, we encourage our customers to get in touch if there are any issues at all. We are happy to return as soon as possible to rectify any problems or undertake any necessary repairs.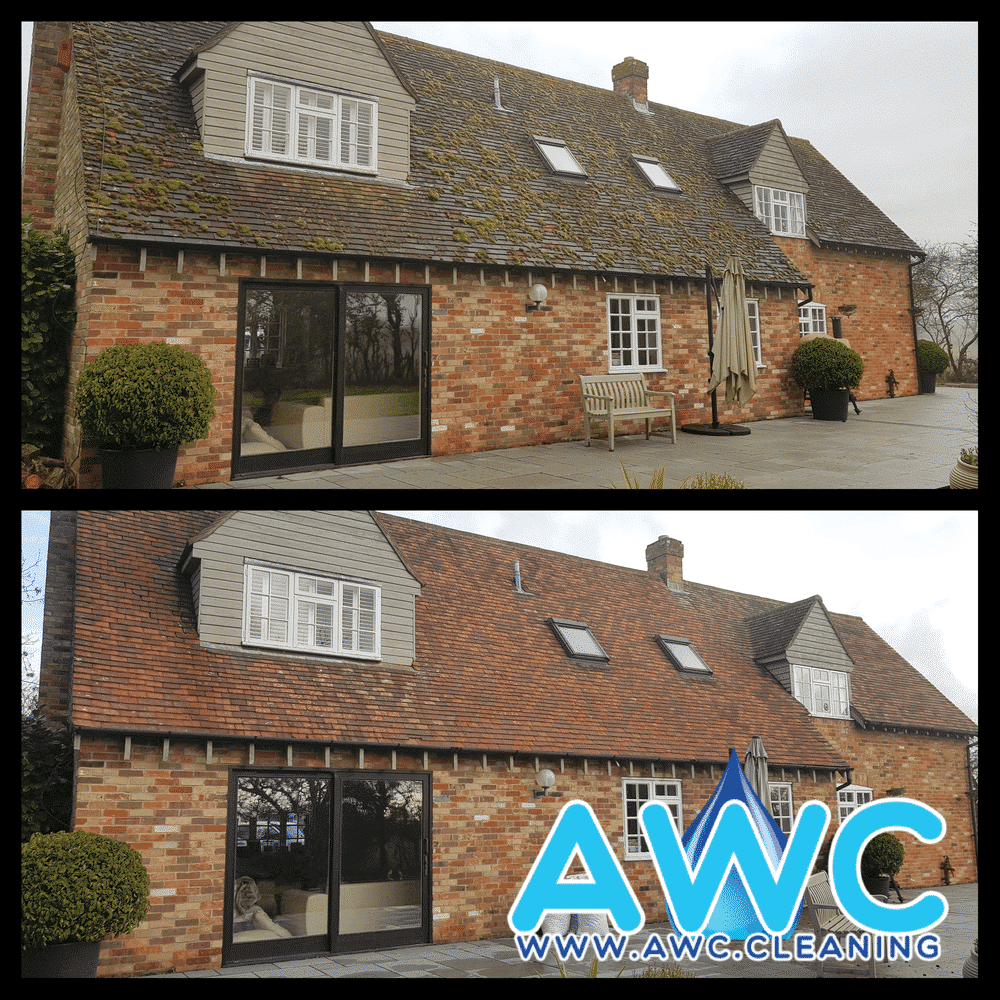 Roof Cleaning and Moss removal in Farnborough is effective and affordable:
Moss on roofs in Farnborough may be ugly and detract from the overall appeal of your home. This can cause further difficulties on your roof since the moss may contain enough water to harm the tiles. This may go undetected at first, but the first indication will be a leak in the roof, resulting in additional expense.
Keeping your Farnborough roof clean can also help to prevent damage caused by clogged gutters and downpipes. If this problem is left unattended, damp will seep into the walls, costing you a lot of money that might have been prevented with a simple roof clean.
Our Farnborough roof cleaning and moss removal services will safely and efficiently remove moss from your roof, leaving you with a clean roof to be proud of. Roof cleaning in Farnborough is affordable for the majority of householders.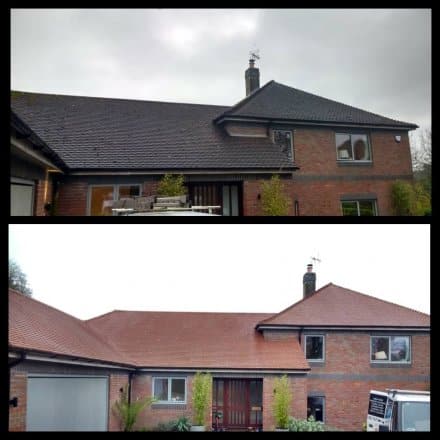 Obligation Free Roof cleaning quotes in Farnborough.

To proceed with your roof cleaning request, please contact us and we will be able to supply you with a roof cleaning estimate by utilising google maps or old Right Move advertisements. By examining these photos online, we are able to correctly quote for roof cleaning in Farnborough.
If you can also provide images of the property to our estimates staff, it will help us deliver the most precise quotation possible. If it's impossible to appraise the roof from internet photographs alone, we may come to the home and provide a quotation for the clean.
Please contact us for a free, no obligation quote. If you have any questions or would like to discuss your cleaning requirements one of our team of cleaners will be happy to get back to you as soon as possible.