Our specialist roof cleaners are ready for you!
Professional Roof Cleaners
Call 01296 707 659 to Request a quote!
Roof Cleaning can dramatically improve the apperance of any property and can prolong the life of a roof and prevent any further damage.  As a home or business owner your roof makes an important first impression. We understand the impact that presentation has on your home and buildings as well as the role of roof cleaners, in addition a well maintained building can save money in the long run by avoiding things like:
Water damage and damp caused by overflowing gutters
Re-painting stained and dirty render
Serious damage to surfaces from the growth of algae, moss and other organic matter
Contact Us for A Roof Cleaing Quote and Impartial Advice
Trained Roof cleaner staff
Each individual property presents its own set of needs and challenges for our Roof Cleaners. Our knowledge, experience, training and wide range of equipment means we can take a tailored approach to each and every cleaning task. For our customers this means work is undertaken as efficiently and as cost effectively as possible
100% satisfaction guarantee
Each roof cleaning job can come with its own set of needs and challenges therefore it's important to hire a company with the expertise to complete the job properly and safely. We offer a 100% satisfaction guarantee and we will return if necessary to honor that promise.
respectful client relationships
We believe in excellent communication with our clients when our roof cleaners are workng on your roof. We understand the importance of clear communication whilst ensuring that our customers feel listened to. This ethos is incorporated into all our work be it first contact for a free quote, questions and enquiries, providing proposals or service delivery.
Experience
Since our conception we have built extensive experience in a range of environments be it commercial, industrial or residential and in providing a range of specialist roof cleaning services. We have worked extremely hard to build on that knowledge, researching and sourcing the latest techniques and equipment.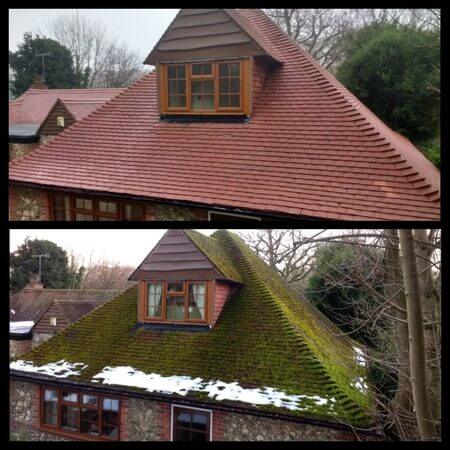 Kevin Jones, Roof Cleaning
We used AWC and the team led by Colin to clean our roof, we were very happy with the professional and courteous manner in which the job was complete. Colin provided us with a detailed plan every step of the way and now our roof is clean of moss and the roof looks like new. Thanks again – Kevin Jones
Judy Pain, Roof cleaning and coating
Very happy with their service, Terri booked us in at short notice and Colin came and the team cleaned the roof, gutters and all windows. Very happy with the service. Highly recommended. – Judy Pain
Request a Roof Cleaning Quote call 01296 707659

Please contact us for a free, no obligation quote. If you have any questions or would like to discuss your cleaning requirements one of our team of roof cleaners will be happy to get back to you as soon as possible.