Colin Steele
Owner / Managing Director
Colin has been growing AWC since 2013, he spends most of his time now managing the teams, preparing quotes, marketing, customer service and working on site with some of the crew.
Terri Steele
Business Development / HR
Terri has been working with Colin since the start, first helping with the admin side of the business.  But now with a family of 2 little girls Terri works on the development and HR involved with running the small team.
AWC Services Ltd was founded in 2013 and grew from Aylesbury Window Clenaing in Aylesbury, Buckinghamshire we have expanded over those years and now complete about 100s of roof cleans each year in the surrounding counties including Hertfordshire, Oxfordshire, Bedfordshire, Warwickshire, Berkshire and Greater London. Our roof cleaning teams travel far and wide to work with customers in providing the best cleaning service possible.
We can offer you an honest and reliable roof cleaning service, we pride ourselves on our reputation and we want to nurture and maintain our customer base. We receive a lot work from customer recommendation and we can only continue by doing the best work we can. Our aim is to ensure that each customer is happy with their clean and if any problems arise we work hard to resolve each matter quickly and efficiently.
Husband and Wife team Colin and Terri have grown the business and hire 4 local people including three manual workers and one admin staff. We believe in paying a living wage (Minimum £10 per hour) and providing the people that work with us the ability to grow and develop in any career they choose. 
We work hard to provide out team with the essential safety equipment when working at heights. Working at heights can be exhausting and one error in judgement can lead to accidents that we work to avoid. Working at heights training is provided as well as safety equipment such as trade rated ladders, trade rated scaffold towers and fall arrest kits.
Simon
Roof Cleaning Manager
Simon is the roof cleaning manager, he is in charge of the teams that work on the customers house.  He has 10+ years working in constructions roles and 5 years working with AWC Roof Cleaning.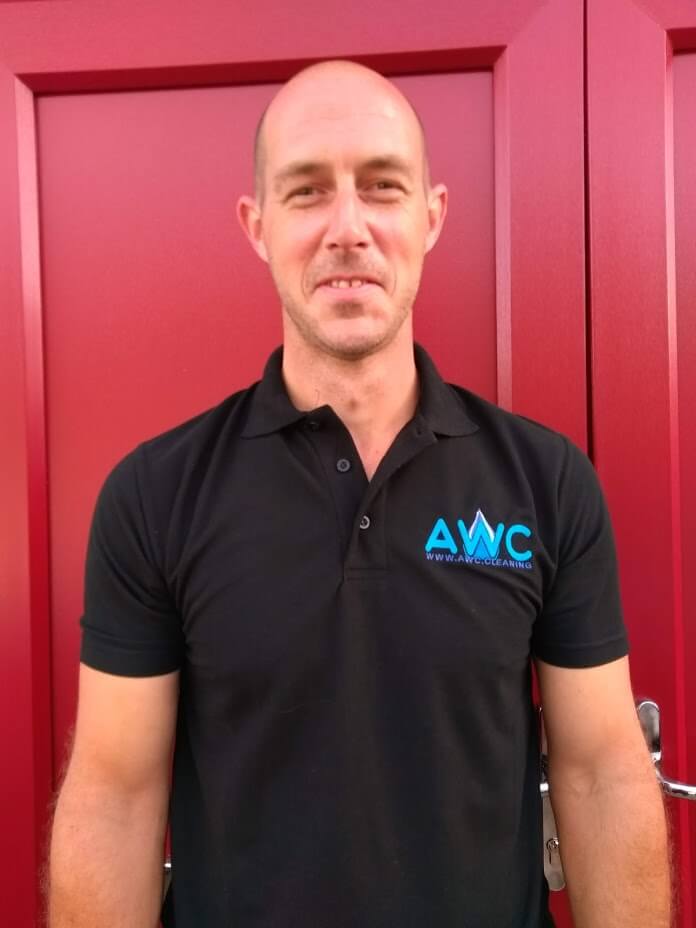 Austin
Roof Cleaner / Window Cleaner
Austin has worked with the team for 3 years, he has worked  most of his adult life working as an external cleaner and enjoys the challenges and working outside.
Lewis
Roof Cleaning / Window Cleaner
Lewis has been with the roof cleaning team for 2 years.  He is the joker of the group but is hard working and makes sure that the ground is always kept clear.
Having contacted us to discuss your roof cleaning needs we will be able to prepare a quote for you instantly by viewing the property online or requesting photos. 
We will then provide you with a detailed, personalised roof cleaning proposal including a final quote
Our team of cleaners will undertake the roof cleaning using the methods detailed in your personalised proposal.
Following the clean all debris and rubbish will be removed, and our team will check that you are happy with the roof clean that has been undertaken.
Following the clean we encourage our customers to get in touch if there are any issues at all. We are happy to return as soon as possible to rectify any problems or undertake any necessary repairs.
Softwashing roof clean approach is a safe and gentle cleaning method involving the manual scraping and low pressure steam cleaning of moss etc using specially mixed chemicals and a biocidal treatment which prevents the re-growth of moss, lichen and other pollutants which can protect your roof for anywhere between 5 – 10 years (depending on environmental factors etc)
We use a combination of roof ladders, cherry pickers, portable access tower and rope harness kits.  This enables us to safly accsess the roof and use the steamm cleaner, scrape the moss and apply chemicals. 
Our knowledge and experience mean that we can properly assess and advise on the best and most appropriate methods for your roof cleaning.
Please contact us for a free, no obligation quote. If you have any questions or would like to discuss your cleaning requirements one of our team of cleaners will be happy to get back to you as soon as possible.