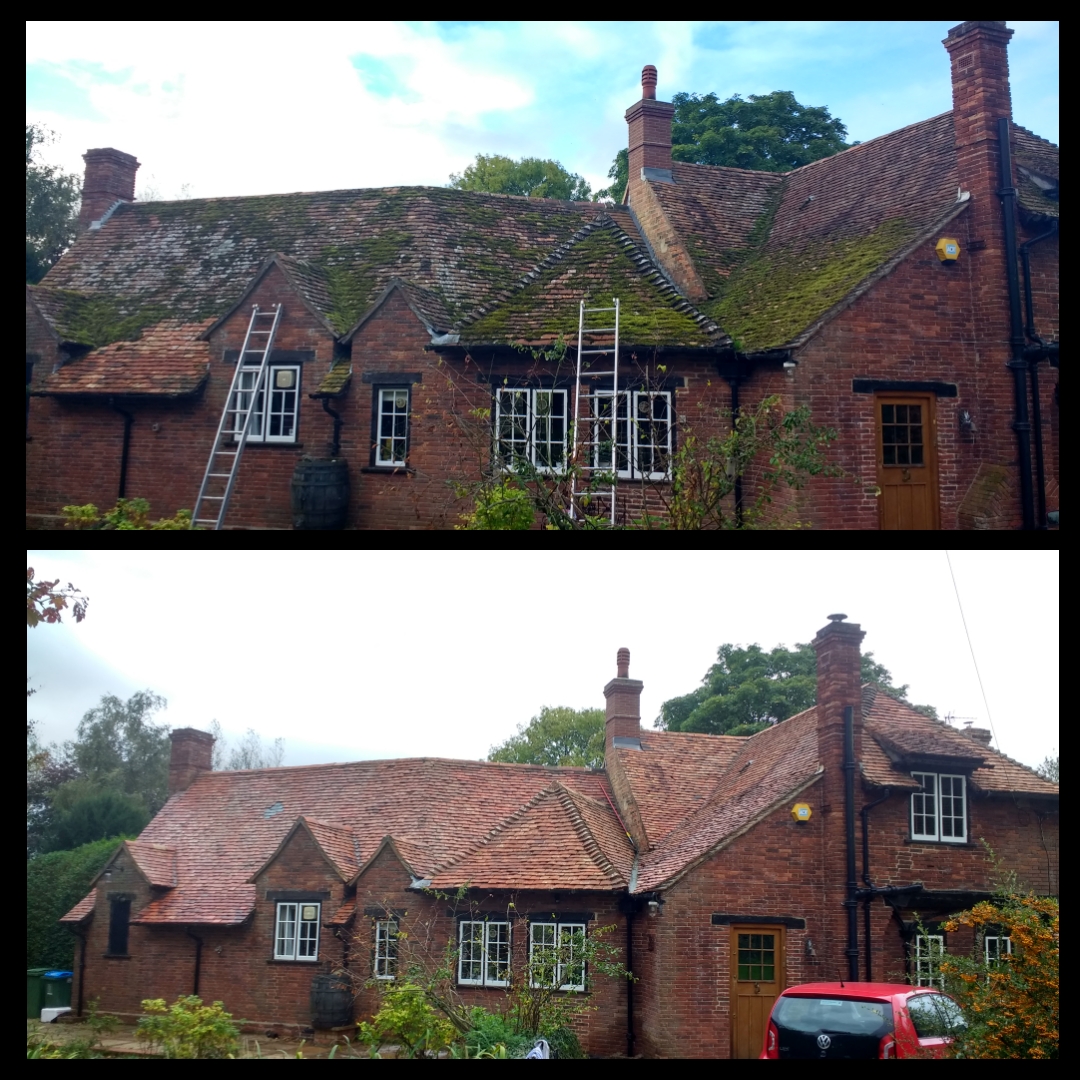 Roof Cleaning in Buckinghamshire
This was a roof clean on an old property built in 1780s, care had to be taken on the roof tiles as they were old and fragile.  The roof was scraped and treated with a softwash solution.
Roof Cleaning in London
This was a roof clean on an Large property in Greater London, due to the size and height of the roof an access tower was used to gain safe access. The roof was scraped from moss and the roof was then treated with a softwash solution.
Wall Cleaning in Bedfordshire
This wall had a small patch of black algae growing, this was caused by a blocked gutter.  This was cleaned without the use of pressure washing using a softwash chemical treatement.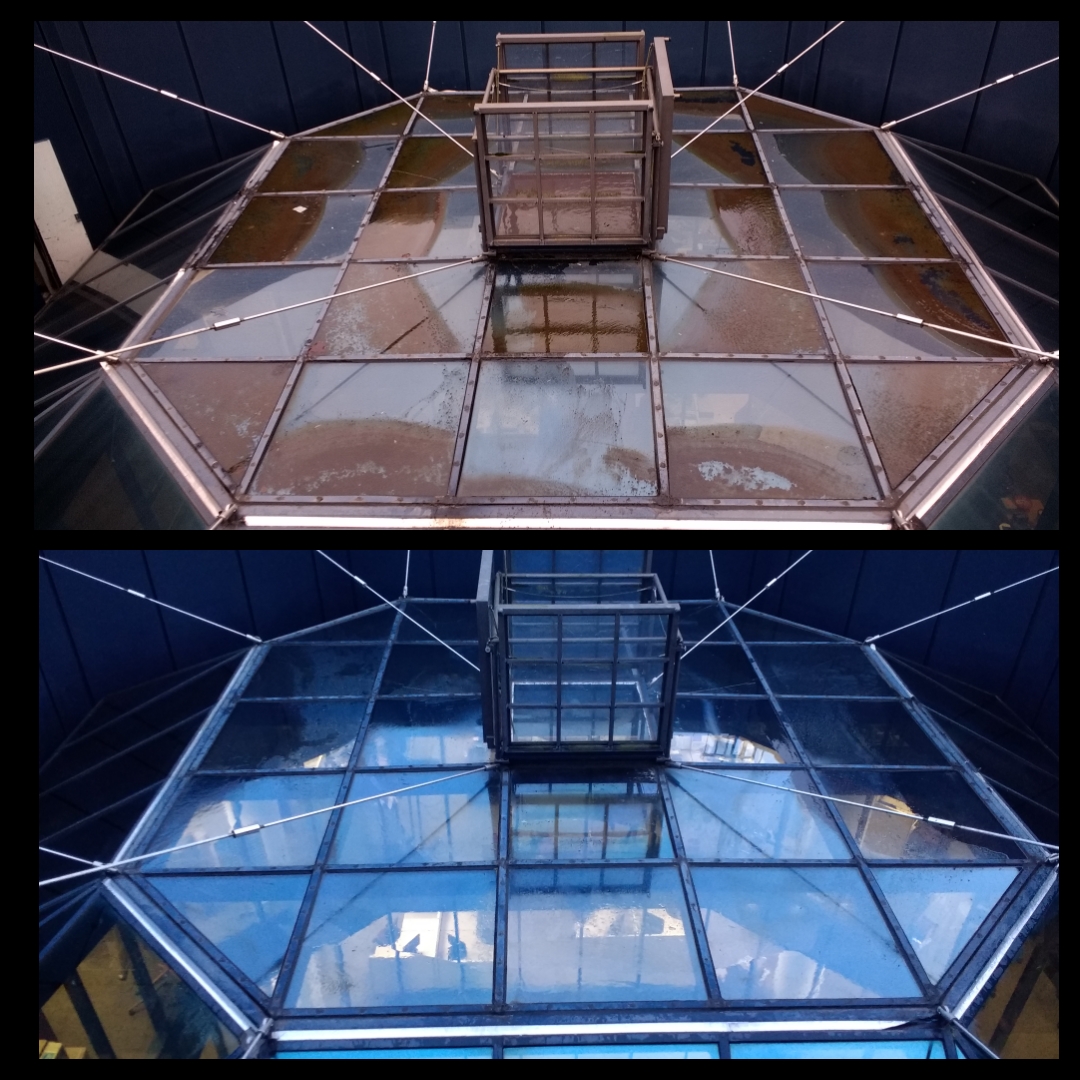 Window Cleaning in Buckinghamshire
This is the top glass in the atrium of the iconic Blue Leanie office building in Aylesbury, this is a large office building that we have been regularly cleaning for the property managers.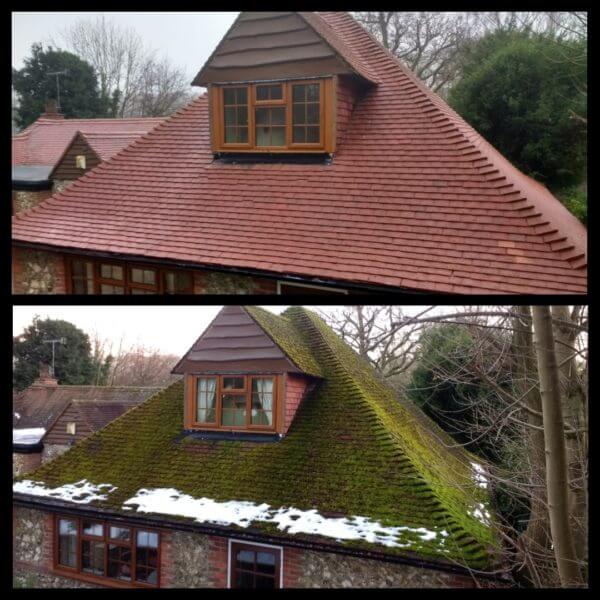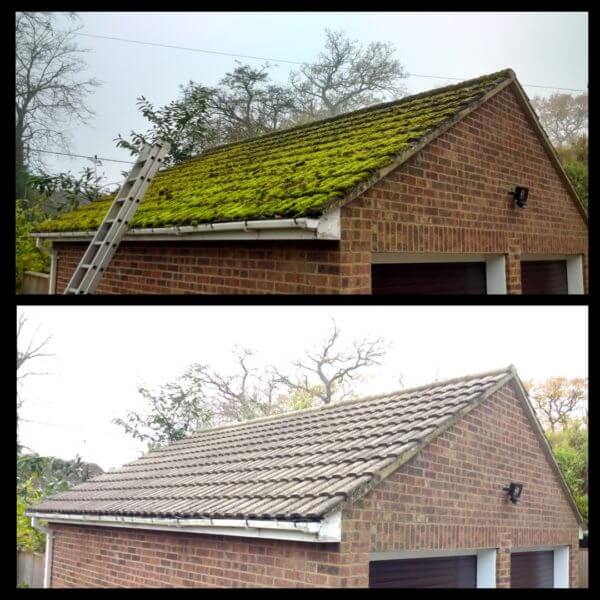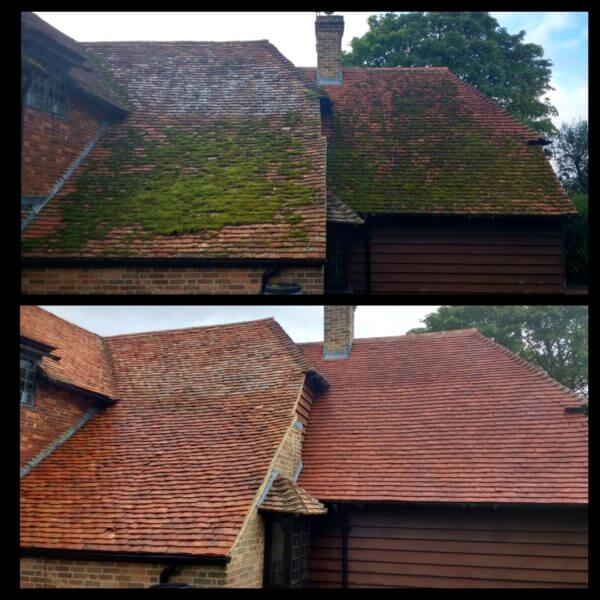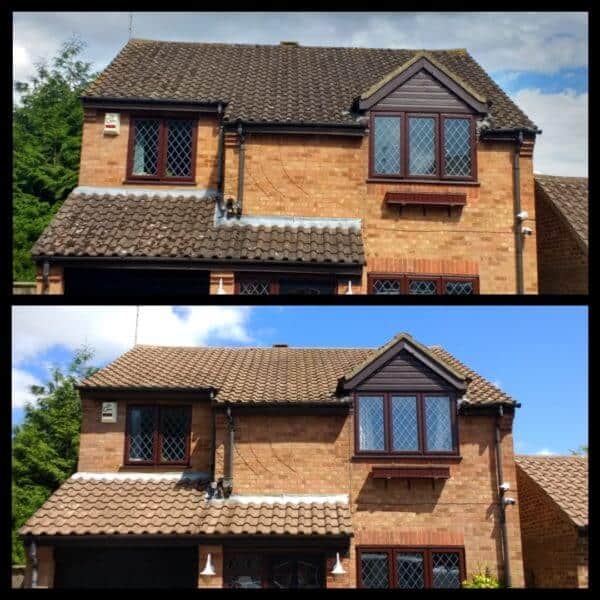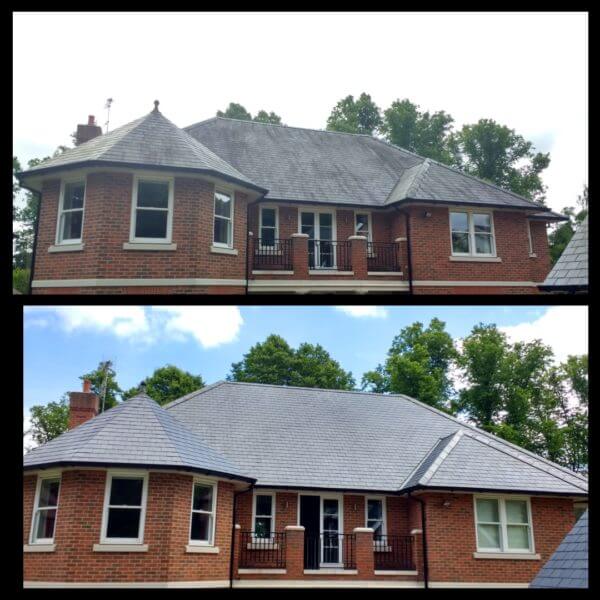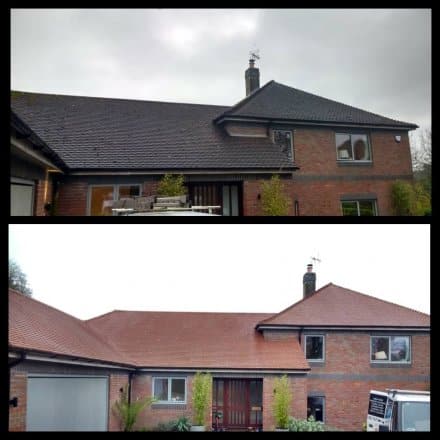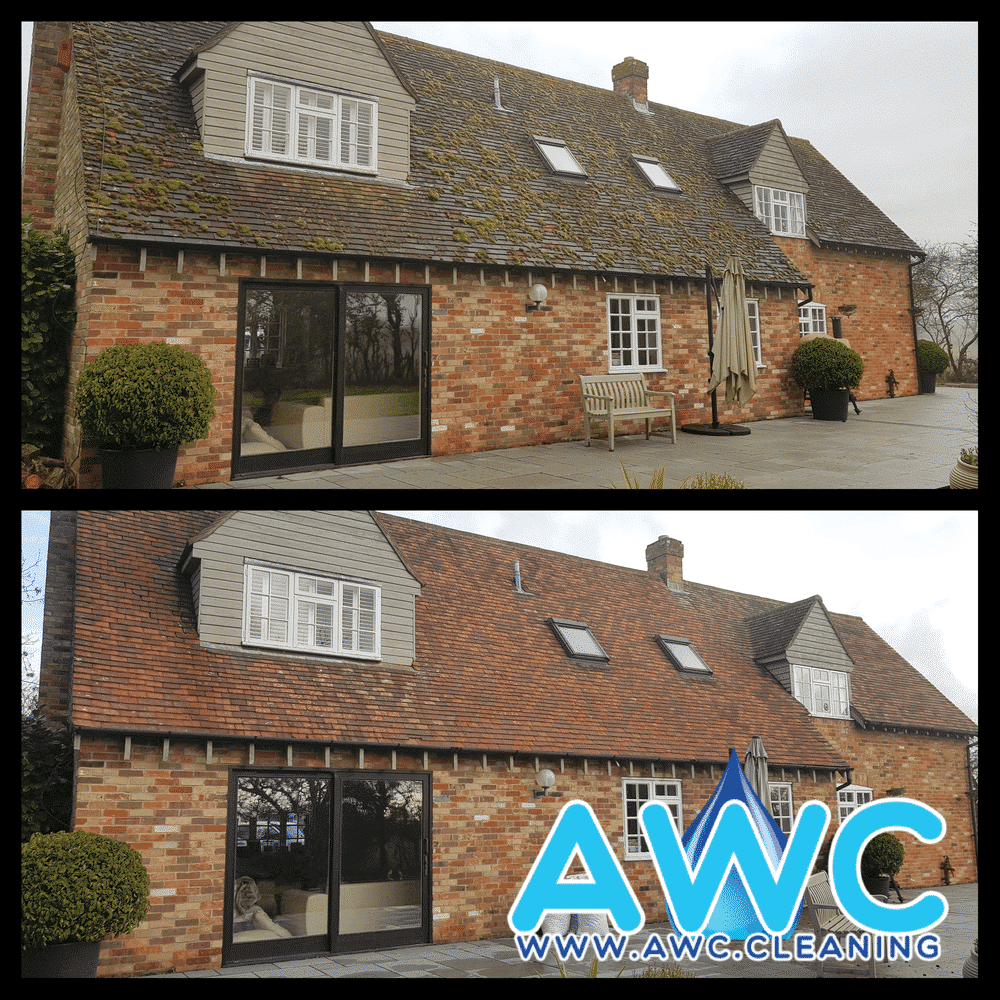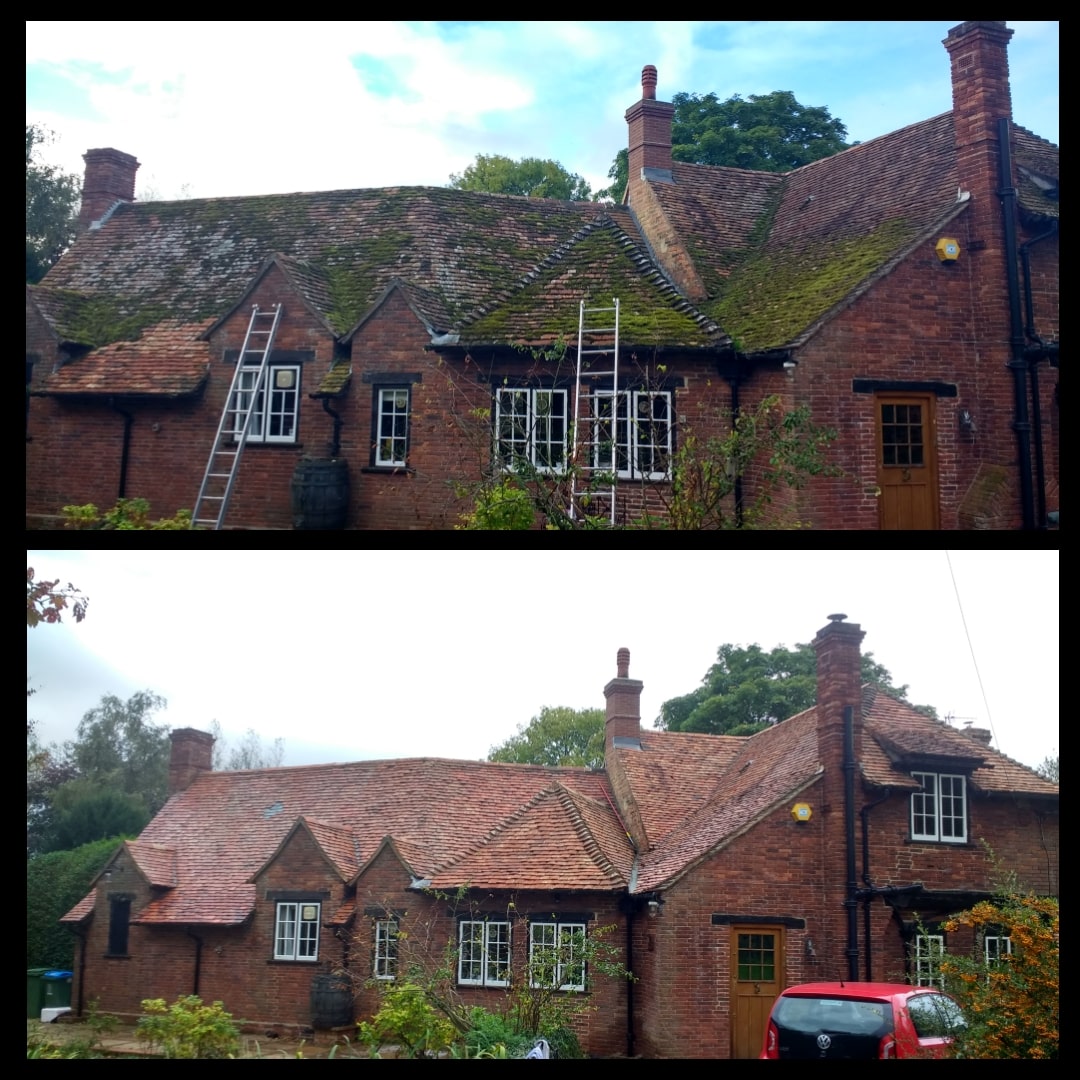 Having contacted us to discuss your roof cleaning needs we will be able to prepare a quote for you instantly by viewing the property online or requesting photos. 
We will then provide you with a detailed, personalised roof cleaning proposal including a final quote
Our team of cleaners will undertake the roof cleaning using the methods detailed in your personalised proposal.
Following the clean all debris and rubbish will be removed, and our team will check that you are happy with the roof clean that has been undertaken.
Following the clean we encourage our customers to get in touch if there are any issues at all. We are happy to return as soon as possible to rectify any problems or undertake any necessary repairs.
Softwashing roof clean approach is a safe and gentle cleaning method involving the manual scraping and low pressure steam cleaning of moss etc using specially mixed chemicals and a biocidal treatment which prevents the re-growth of moss, lichen and other pollutants which can protect your roof for anywhere between 5 – 10 years (depending on environmental factors etc)
We use a combination of roof ladders, cherry pickers, portable access tower and rope harness kits.  This enables us to safly accsess the roof and use the steamm cleaner, scrape the moss and apply chemicals. 
Our knowledge and experience mean that we can properly assess and advise on the best and most appropriate methods for your roof cleaning.
Please contact us for a free, no obligation quote. If you have any questions or would like to discuss your cleaning requirements one of our team of cleaners will be happy to get back to you as soon as possible.