Here at AWC, we can make sure that the exterior property is glistening. Our softwash Wales render cleaning service will not only improve the appearance of your building but will also protect the longevity of it. If you would like to benefit from a free quotation, please do not hesitate to get in contact with us for more information. But first, continue reading to find out everything that you need to know about the render cleaning Wales services that we provide and the benefits that are associated with it.
.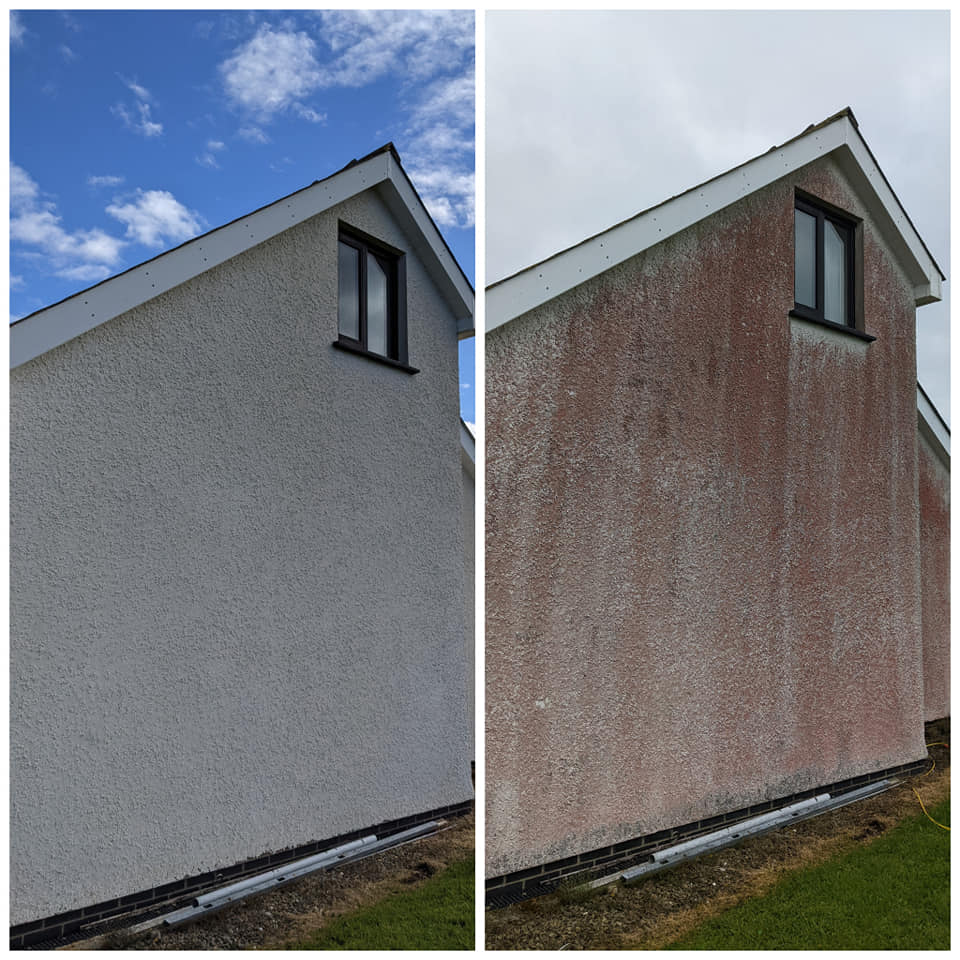 What are the benefits of having your property render cleaned?
There are a number of different reasons why you should consider a professional cleaning service for the exterior of your property.
Allows the walls to breathe while also ensuring the growth of unwanted moss is prevented
Stops damp from becoming a problem
Protects your property from corrosion or further damage that is associated with moss growth
Gentle removal of algae, moss, and pollutants
Restoration of render to an as new condition
Removal of unsightly algae and green moss from the render
Here at AWC, we are delighted to provide our Wales render cleaning service for both residential and commercial properties. So, let's take a look at the benefits of both in further detail…
Reasons to have your commercial property K Render cleaned
If you run a business, then you will know that image is everything. In today's competitive business environment in Wales, everything you do is a representation of your brand. If your business has a dirty office and shabby exterior, what sort of impression do you think that this will give off? If you do not take pride in your business enough to keep the exterior of your property clean, then your customers will assume that you take this approach with all of your activities. Also, you need to consider the fact that the outside of your business is the first thing that people will see. First impressions are everything. With render cleaning in Wales, you can make sure that the first impression you gave is an exceptional one.
You also need to consider the positive impact that this will have on the people who work for your company. After all, a business is nothing without its employees. Going to work every day in a clean and stylish environment is something that will bring the feelgood factor back to your business. Your workers will have a spring in their step when they arrive every day and this will translate into a more positive workplace, happier workforce, enhanced productivity levels, and improved retention rates.
It is not just about the way that your business looks. The environment, pollution, and weather can cause serious damage to the exterior of your building. This can lead to algae and moss, both of which can be very harmful if they are left untreated. Therefore, our professional cleaning service can protect the lifespan of your building. This will create a healthy working environment and it will also save you huge amounts of money in the long run.
.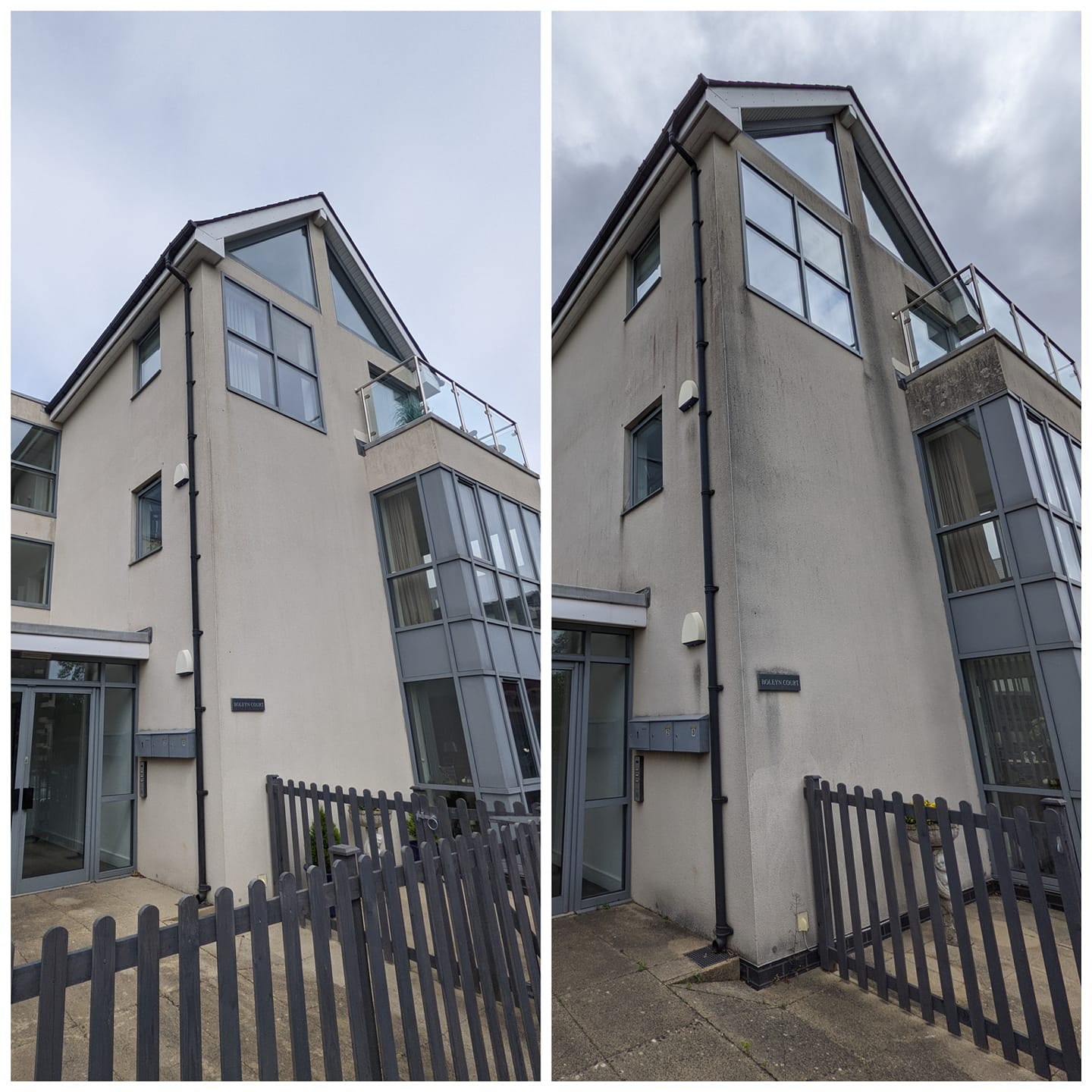 Reasons to have your home professionally render cleaned in Wales
We also provide our services for homeowners in Wales. Just like commercial property owners, homeowners will benefit from a service protects the longevity of the property. This can make sure that any potential issues do not get worse. This can save you from having to shell out lots of money for an extremely costly repair. It is all about spending a little bit in order to save a lot of money and a lot of hassle.
Of course, you will also improve the appearance of your home. Most homeowners will agree that the front garden and the exterior of the property of the two most important elements of their house. This is because they are the first things people see when they arrive at the property in Wales. If you have an unkempt garden and a dirty exterior to your property, this will create a negative impression, which is difficult to shift, no matter how beautiful your property is inside. You can make sure that people have a great first impression of your home by investing in render cleaning in Wales services.
This is especially important if you are planning to put your home on the market soon. If somebody comes to view your property and they notice that the render walls are shabby and could do with a good clean, they will assume that you have not taken pride in the rest of your house and that there are going to be a lot of jobs that need doing.  we can also offer a professional roof cleaning service, this will also improve the appearance of the property alongside the render cleaning in Wales. This could put potential buyers off purchasing your property or, at the very least, they will try to reduce the asking price in order to accommodate the work needs to be done. You would be much better off getting the render of your property professionally cleaned before you put your home on the market. Not only can this help you to sell your property quickly, but you may even be able to increase the asking price is a consequence.
.