Roof Cleaning and Moss Removal in Milton Keynes
Contact Us For A Free External Cleaning Quote and Impartial Advice
Roof Cleaning in Milton Keynes

We offer expert services for Roof Cleaning in Milton Keynes.  The climate in Milton Keynes and surrounding areas lends itself to encouraging the growth of moss, fungi, algae and lichens all of which can thrive on roofs. Roofs can also collect dirt from traffic, local building works and can become stained from other air bound pollutants particularly when close to busy roads.
Roof cleaning in Milton Keynes can make a world of difference to the appearance of your property. When properly cleaned and maintained the roof of your property can be restored to a near new finish, tiles can be restored to their original colour, giving your building a new lease of life.
As well as improving the aesthetics of your building, roof cleaning in Milton Keynes is an excellent preventative measure which can improve the longevity of tiles and avoid costly repairs to roofs, gutters and render caused by excessive moisture and extra strain and weight put on roof materials due to moss and other debris.
We understand that every roof clean in Milton Keynes we clean will have different requirements and are able to employ a variety of techniques that tackle all cleaning needs. We have an article here on how we clean moss from a roof.
Milton Keynes Roof Cleaning Methods
A Softwashing roof clean approach is a safe and gentle cleaning method involving the manual removal of moss, algae and bacteria using specially mixed chemicals and a biocidal treatment which prevents the re-growth of moss, lichen and other pollutants which can protect your roof for anywhere between 5 – 10 years (depending on environmental factors etc)
We will on occasion also offer Pressure washing followed by a biocidal treatment. It is extremely important to note that whilst pressure washing can be an extremely effective roof cleaning method, there are many surfaces where it can be damaging and as such should only be used by professionals who understand when and where it is appropriate.  If you want your roof painting then we have to pressure wash your roof first otherwise the roof paint guarentee is invalid.
Our knowledge and experience mean that we can properly assess and advise on the best and most appropriate methods for cleaning your roof cleaning in Milton Keynes.
How we clean your roof:
Having contacted us to discuss your roof cleaning needs or for a free quote we will usually be able to give you a very rough guide price. We will then:
Visit your property in Milton Keynes or surrounding areas free of charge to assess access and cleaning requirements for the roof clean, length of time the clean will take and risk assess
We will then provide you with a detailed, personalised roof cleaning proposal including a final quote
Our team of cleaners will undertake the roof cleaning in Milton Keynes using the methods detailed in your proposal
Following the clean all debris and rubbish will be removed, and our team will check that you are happy with the roof clean that has been undertaken.
Following the clean we encourage our customers to get in touch if there are any issues at all. We are happy to return as soon as possible to rectify any problems or undertake any necessary repairs.
Roof Cleaning and Moss removal in Milton Keynes is effective and affordable:
Moss growing on roofs in Milton Keynes can be unsightly and ruin the appearance of your roof. This can lead to further problems on your roof, the moss can hold enough water to eventually cause damage to the tiles, this may be unseen at first but the first signs will be a leak in the roof leading to further costs. Keeping your Milton Keynes Roof clean will also prevent damage that can be caused by blocked gutters and down pipes, if this problem is left unchecked then damp can penetrate the walls and if left to dwell can cost you large amounts of money that can easily be avoided with a roof clean.
Our Roof cleaning and moss removal services in Milton Keynes can safely and effectively remove the moss from your roof leaving you with a clean roof that you can be proud of. There is roof cleaning in Milton Keynes to available to suit most homeowners budgets.


Contact Us For A Free External Cleaning Quote and Impartial Advice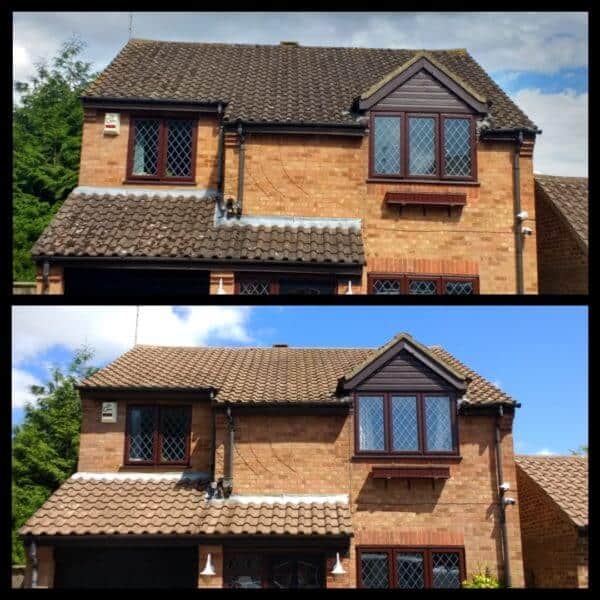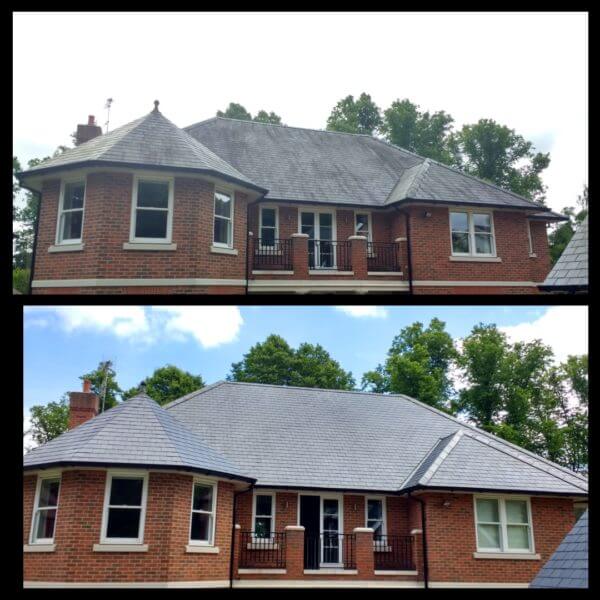 Working safely at heights when roof cleaning in Milton Keynes

When working on your roof in Milton Keynes we use a variety of safety measure to make sure the crew are working safely. We use a combination of trade quality ladders to access the gutter line and use trade rated roof ladders to safely access the ridge of the roof when necessary. Scaffold is very rarely necessary on a roof clean, but we do sometimes bring our own portable scaffold tower than enables us to safely complete your roof clean in Milton Keynes up to heights of 7.2m. When working at heights we have fall arrest harness kits that ensure that our staff can work on the roof without the risk of falling.
We keep an upto date health and safety training record and are safe contractor approved for working at heights when cleaning domestic or commercial properties. When needed we have the ability to use powered access such as cherry pickers to be able to reach difficult areas and enables us to work safely and reduce risk to our London Roof Cleaning staff.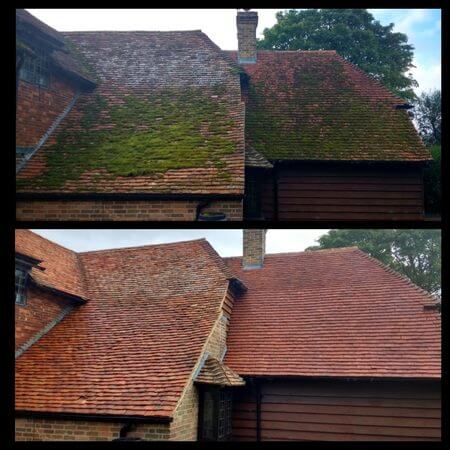 Moss Removal in Milton Keynes

The moss removal is completed by manually scraping the moss from the roof, we use specialist scraping tools that have been machined to fit the exact profile of each type of roof tile. The moss is removed from the roof and cleared and bagged by our team, the gutters are kept clean and clear. After your roof clean in Milton Keynes this should be the last time you'll ever need to clean your gutters for the next 10 years due to moss problems. Once we have scrapped the moss from the roof and have cleaned up the area we will apply either a biocide, that will gently continue to clean the roof as the wet and dry spells wash the roof. If the customer wants to restore the original colour of the roof then we can use a more aggressive chemical that will remove all bacteria and algae from the roof and restore the roof tiles.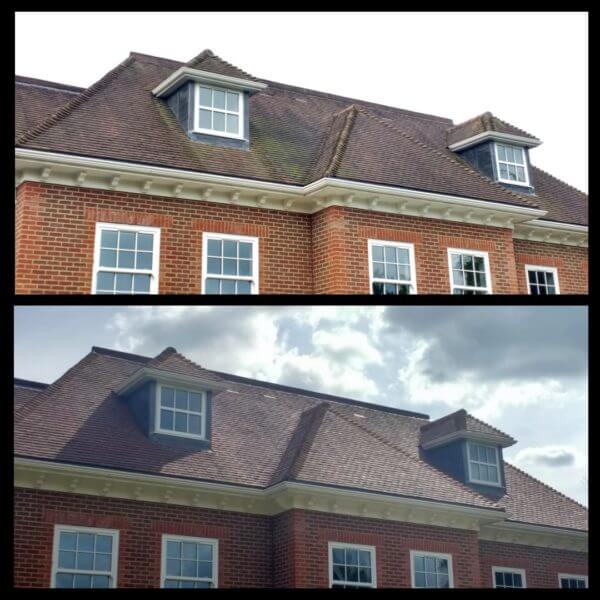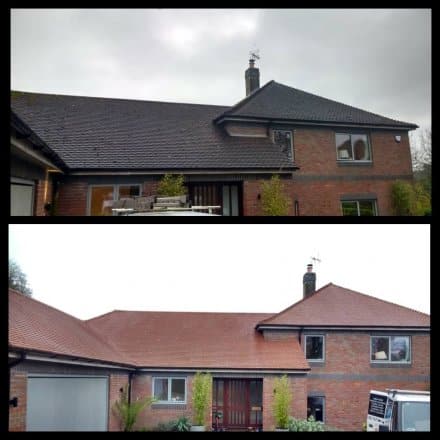 Roof Tile Painting in Milton Keynes

The roof tiles on your house can become aged and discoloured overtime, the roof cleaning process can remove the moss from your roof and most of the tile restore the tiles to a great condition. If the tiles are looking old or a different colour of patchwork roof tiles then we can paint your roof in Milton Keynes. The roof paint is specifically designed to work on roofs, it is a rubber based water proof pant that we spray on providing a beautiful roof that is available in most colours. You can read more about our Milton Keynes Roof Painting services here and contact us if you would like a roof painting quote.
Commercial and Industrial roof cleaning in Milton Keynes

We have a dedicated team that is able to undertale any sized roof cleaning in Milton Keynes. Our team can safely work on your project following strict health and safety guidelines following agreed upon risk and method statements for roof cleaning. Commercial roof cleaning projects can have different health and safety demands to domestic roof cleaning in Milton Keynes, we are able to meet those demands and provide you with a professional and safe working crew to tackle any Milton Keynesroof cleaning project.
Areas that we work in Milton Keynes

Our roof cleaning teams are able to work in all areas of Milton Keynes and North Buckinghamshire. We can provide roof cleaning services in Bletchley, Wolverton, Newport Pagnell, Buckingham, Aylesbury and all other areas in North Buckinghamshire. If you have a Milton Keynes roof cleaning inquiry then please get in touch and we'll be able to provide your with an obligation free roof cleaning quote. If you have noticed moss on your roof in these areas, then we can provide you with the best roof cleaning service to remove all moss deposits and bacteria, algae and other micro organisms that are growing on your roof tiles.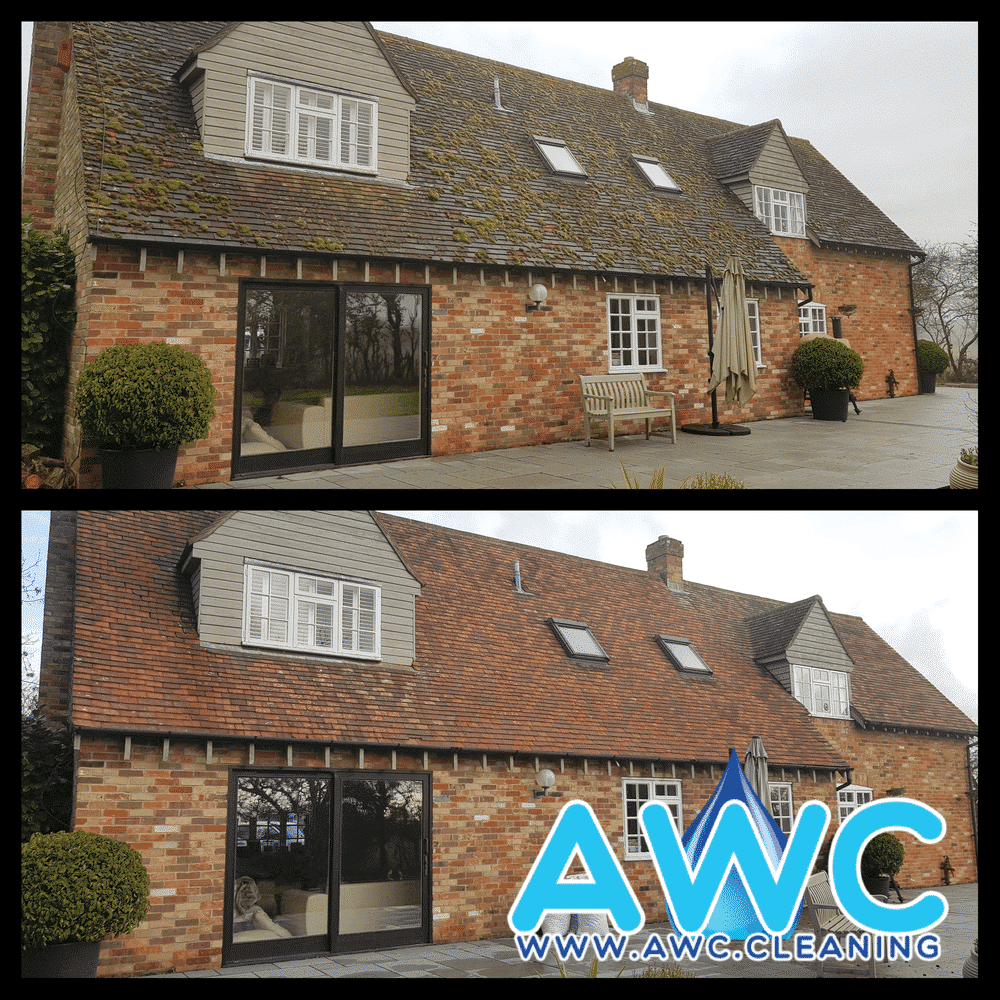 Obligation Free Roof cleaning quotes in Milton Keynes

To continue with your roof cleaning request please contact us and we will be able to provide you with a roof cleaning estimate by using google maps or old Right Move adverts, we are able to accurately quote for roof cleaning in Milton Keynes by viewing these images online. It will help our estimating team if you are able to email photos of the property as well, this will enable us to provide the most accurate quote. We are able to visit the property to also quote for the clean if it is difficult to assess the roof from online images alone.
Please contact us for a free, no obligation quote. If you have any questions or would like to discuss your cleaning requirements one of our team of cleaners will be happy to get back to you as soon as possible.