Roof Cleaning in Pembroke Dock
Roof Cleaning in Pembroke Dock
We offer expert services for Roof Cleaning in Pembroke Dock.  The climate in Pembroke Dock and surrounding areas lends itself to encouraging the growth of moss, fungi, algae and lichens all of which can thrive on roofs. Roofs can also collect dirt and become stained from other air bound pollutants particularly when close to busy roads.
Roof cleaning in Pembroke Dock can make a world of difference to the appearance of your property. When properly cleaned and maintained the roof of your property can be restored to a near new finish, tiles can be restored to their original colour, giving your building a new lease of life.
As well as improving the aesthetics of your building, roof cleaning is an excellent preventative measure which can improve the longevity of tiles and avoid costly repairs to roofs, gutters and render caused by excessive moisture and extra strain and weight put on roof materials due to moss and other debris.
We understand that every roof in Pembroke Dock we clean will have different requirements and are able to employ a variety of techniques that tackle all cleaning needs. We have an article here on how we clean moss from a roof.
.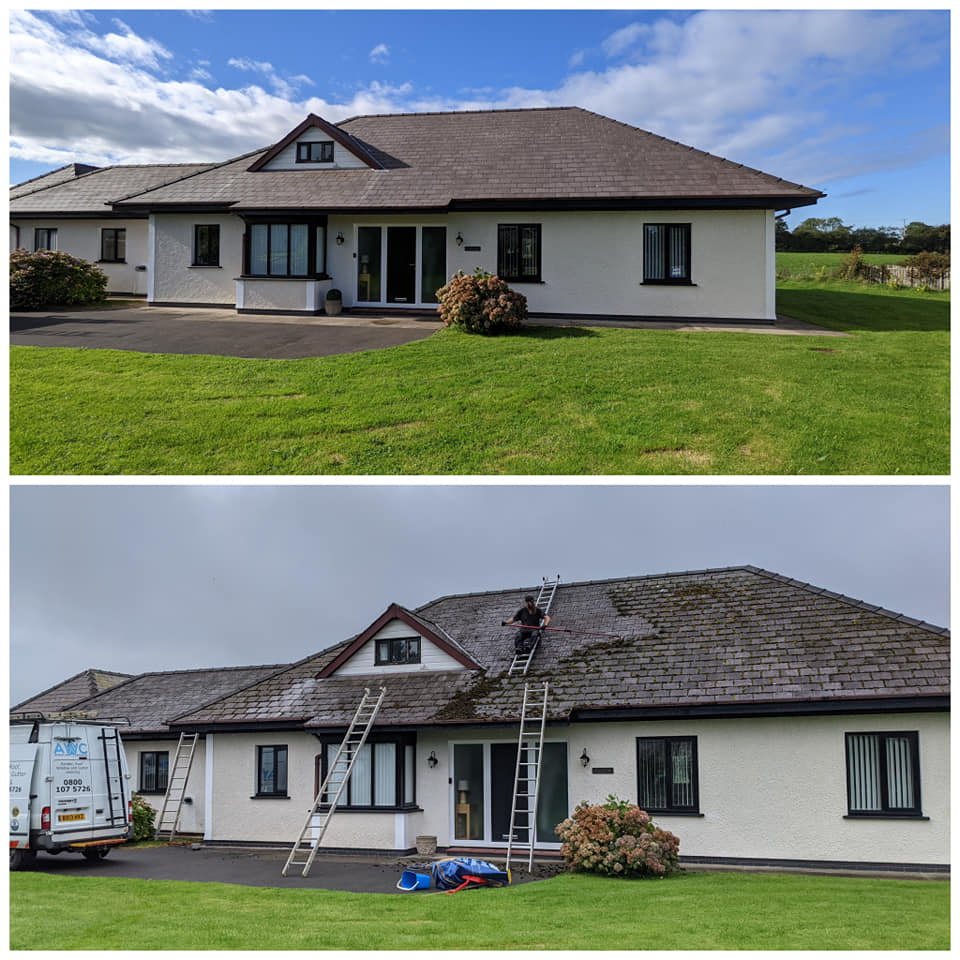 Pembroke Dock Roof Cleaning Methods
A Softwashing roof clean approach is a safe and gentle cleaning method involving the manual removal of moss etc using specially mixed chemicals and a biocidal treatment which prevents the re-growth of moss, lichen and other pollutants which can protect your roof for anywhere between 5 – 10 years (depending on environmental factors etc)
We will on occasion also offer Pressure washing followed by a biocidal treatment. It is extremely important to note that whilst pressure washing can be an extremely effective roof cleaning method, there are many surfaces where it can be damaging and as such should only be used by professionals who understand when and where it is appropriate.  If you want your roof painting then we have to pressure wash your roof first otherwise the guarentee is invalid.
Our knowledge and experience mean that we can properly assess and advise on the best and most appropriate methods for cleaning your roof cleaning in Newcastle Emlyn.
.
How we clean your roof:

Having contacted us to discuss your roof cleaning needs or for a free quote we will usually be able to give you a very rough guide price. We will then:
Visit your property in Pembroke Dock

 

or surrounding areas free of charge to assess access and cleaning requirements for the roof clean, length of time the clean will take and risk assess
We will then provide you with a detailed, personalised roof cleaning proposal including a final quote
Our team of cleaners will undertake the

 

roof cleaning in Pembroke Dock
Following the clean all debris and rubbish will be removed, and our team will check that you are happy with the roof clean that has been undertaken.
Following the clean we encourage our customers to get in touch if there are any issues at all. We are happy to return as soon as possible to rectify any problems or undertake any necessary repairs.
.